Documents spread all over
Maintaining a processing register in Excel or Word is quickly established, but how do you keep it up to date? Where is the latest version of the register?
Is the information complete?
The HR manager has an overview of the personal data in Excel. There is a record of the purpose and the legal basis.
Each department manager has described its departemental processes in which personal data is being processed. How is the information processed in his department? Enriched, corrected, preserved and destroyed?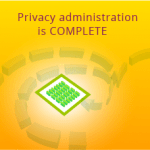 The procurement department has an overview of processor agreements that have been concluded with various suppliers. With an overview of where the personal data comes from and where they go. And agreements about further processing.
The IT manager has an overview of the systems and the network of the company. Overview of the measures to protect the information, logically and / or physically.
Administration or Accounts
Loose documents everywhere. Because everything is recorded in different ways, you lose the overview and make mistakes. So choose an online privacy accounting package in which you can link all data.